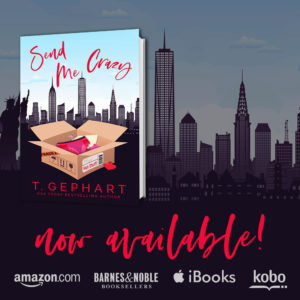 It's LIVE!!!
I loved writing this book so much, and I don't think I laughed as hard since #1 Crush. It was a pure joy to spend time with Riley and Quinn which is why I ended up spinning this bad boy into a series. Each book will be a standalone so you can pick up at any time but it means I don't have to say goodbye to the characters I've fallen in love with just yet! #Selfish.
So if you like rom coms or just a swoony love story of an accidental blind date and adorable meet cute, Send Me Crazy is for you. Grab your copy now!!
📣🔥SEND ME CRAZY by USA Today Bestselling author T Gephart is finally LIVE !!!🔥📣
#StandaloneInSeries #RomCom #AccidentalBlindDate #LaughOutLoud #Romance #NowLive #Adventure #AGStringANoteAndCoordinates #MeetMeHere #QuinnIsKindaLikeTia #SortaRidicolous #NewBook #OneClick 
A note, a pair of panties and a date. 
When Quinn's efforts to set up her best friend go awry, she finds herself with a crazy blind date. Could the mystery man be her soul mate? Nothing like an adventure, and at the very least, she was going to have some fun with it.
🔥LIVE EVERYWHERE🔥
🧯Universal Amazon – mybook.to/SendMC
🚒Amazon US – https://amzn.to/2OhD9iC 
👨‍🚒Amazon UK – https://amzn.to/32Sawh5 
🧯Amazon CA- https://amzn.to/35f4w3P 
🚒Amazon Aust- https://amzn.to/354XiiC 
👨‍🚒Apple Books- https://apple.co/2NyYCDo 
🧯Kobo- http://bit.ly/33fbzbd
🚒B&N- http://bit.ly/2XJaDuq 
👨‍🚒Paperback- https://amzn.to/315Yemj 
🧯Goodreads- http://bit.ly/2NRZkNy